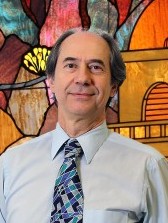 (575) 234-5555
lpapelis@nmsu.edu
Education
Ph.D. – 1992, Civil and Environmental Engineering, Stanford University
M.S. – 1981, Civil and Environmental Engineering, Stanford University
B.S. – 1980, Civil Engineering, National Technical University, Greece
Research Interests
Aquatic chemistry; surface chemistry of mineral surfaces
Spectroscopic investigations of complexes at the mineral/water interface
Physicochemical characterization of mineral surfaces
Modeling diffusion and adsorption in porous earth materials and adsorbents
Water quality; physicochemical water treatment processes
Chemical and geochemical fate of trace elements
Select Publications
Weaver, W.C., T.C.G. Kibbey, and C. Papelis (2020). "Dissolution-desorption dynamics of strontium during elution following evaporation: pH and ionic strength effects." Water, 12, 1461; doi:10.3390/w12051461. 
Normile, H., C. Papelis, and T. Kibbey (2017). "Remobilization dynamics of caffeine, ciprofloxacin and propranolol following evaporation-induced immobilization in porous media." Environmental Science and Technology, 51, 6082-6089.
Xu, X., L. Lin, C. Papelis, M. Myint, T. Cath, and P. Xu (2015). "Use of drinking water treatment solids for arsenic removal from desalination concentrate." Journal of Colloid and Interface Science, 445, 252-261.
Um, W. and C. Papelis (2003). "Sorption mechanisms of Sr and Pb on zeolitized tuffs from the Nevada test site as a function of pH and ionic strength." American Mineralogist, 88, 2028-2039.
Hayes, K.F., C. Papelis, and J.O. Leckie (1988).  "Modeling ionic strength effects on anion adsorption at hydrous oxide/solution interfaces", J. Colloid Interface Sci., 125, 717-726.